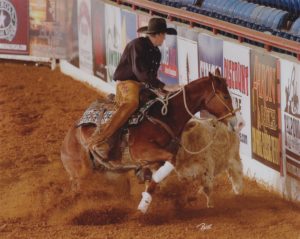 Lee grew up in NE Queensland, Australia. His dad was a bareback rider and horse breeder. Lee's decision to become a professional horseman is largely in part to his upbringing around the horses and his love for the equine lifestyle. When Lee was 16 he went to work on a cattle station to further his cattle skills.
In 2006 Lee was ready to take his career to the next level, so he went to work for John Wicks, the #2 money earning reiner in Australia, learning to train and show reining horses and put a relaxed confident foundation on a horse. This was a great start to his horse training career.
In 2007 Lee went to work with another well-known Reining Australia Professional , Warren & Carol Backhouse. Warren, an exceptional horseman and the #1 money earner in Australia, really gave Lee some great tools to put in his "training tool box" and was a very hard man to beat out of bed in the morning. Carol really instilled in Lee the importance of going above and beyond to ensure a horse is at their peak physical condition and appearance and that they should always go home in better condition than they came. Warren then led Lee to an opportunity to train for John Samain of Dusty Rivers Stud, training his horses along with a few outside customers. Lee then spent 2 years running his own horse training operation and competing in reining, stockmans challenges(cow horse) and camp drafting.
In 2012 Lee made a big leap and moved to the U.S. to work for professional cow horse trainer Chris Dawson. In 2013 Chris had a year most professionals will only ever dream of. Chris went on to win every NRCHA premier derby and made the finals at NRCHA Snaffle Bit Futurity on both of his futurity horses. Lee was able to witness and play a part in a true success story in this industry. Lee has continued working for Chris Dawson and growing his own training program. In December 2014 Lee got married to Ashley Taylor, a fellow competitor and trainer in the NRCHA. January 2015 they opened the doors of Deacon Equine. Still working out of Chris' barn, Lee was able to have a great set of eyes to continue guiding him as he branched out on his own.  At the start of 2016, Lee and Ashley purchased Immanuel Ranch and have since been able to expand their business. 
Lee is an NRCHA approved Judge, as well as, ASHA, and SHOT.
Some of Lee's accomplishments include:
 -2016 NRCHA Snaffle Bit Futurity Lmt Open Finalist                                          
-2016 SRCHA Lmt Open Reserve Champion Rode to Reno Futurity        
-2015 NRCHA Snaffle Bit Futurity L1 Open Champion                                        
-2015 NRCHA Snaffle Bit Futurity Limited Open Top 10                                        
-2015 SRCHA Fall Futurity Open, Inter., Limited, L1 Champion
-2015 SRCHA Derby Open & Intermediate open Reserve Champion,
Limited Open & Level 1 Champion
-2014 NRCHA World show Limited Open Hackamore prelims winner, 4th overall in the world
-2014 APHA Reserve Champion Jr. Cow horse
-2014 SRCHA Level 1 Derby Champion
-2014 SRCHA L1 Futurity Champion
-2013 NRCHA Snaffle Bit Futurity L1 high scoring cow work
-2013 ECRCHA Limited Open Bridle Spectacular Champion
-2012 CRCA L1 Open Derby Champion