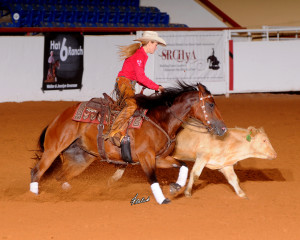 Ashley grew up in southern California. She got into the horses at a very young age with hunter jumpers. She rode jumpers, dressage, and hunters until high school, when she was exposed to the sport of reining. She went to work for her first trainer at the age of 14, where she learned natural horsemanship, gaited horses, reining, and pleasure. She started her own training business at the age of 18, teaching and showing in all-around and running barrels. At the age of 21 she had the privilege of working for Ted Robinson, 7x Snaffle Bit Futurity Champion. After a couple years of working for Teddy, she ventured out to the great state of Oklahoma to work for reining training, Craig Schmersal. Her love for the cow horse was too strong though and she quickly got back into training cow horses when she went to work for Carol Rose Quarter Horses. While working for Carol Rose, Ashley had many great opportunities to train and show. In 2011, she piloted Shiners Diamond Rose to the Lmt Open Hackamore Reserve World Championship.  With a desire for a very diverse resume, in 2012 Ashley went on to work for Cinder Lakes Stallion Station as ranch manager. While working for CLR, she continued training snaffle bit horses, as well as managing stallions and becoming more experienced with sale fitting for futurity prospects. In 2013 she branched out once again, moving to British Columbia, Canada to train full time.  When her time in Canada was complete, she moved back to Oklahoma to work for cutting legend, Jody Galyean. While working for Jody, an opportunity to work for NRCHA 2 million dollar rider, Todd Crawford, came up. In agreeance with Jody, that this was too good an opportunity to pass up, Ashley packed up and headed to Blanchard, OK. While working for Todd, she learned a lot about better preparing her futurity horses for the pressures of the show pen, as well as helping the more seasoned horses to step up. She also had an opportunity to do a lot of non-pro coaching. Her time at Todd's truly helped to bring a lot of the pieces of the puzzle together for her training program.
In December 2014, Ashley and Lee were married! And thanks to all her amazing coaches and trainers along the way, her and Lee were able to start up Deacon Equine in January of 2015.
Ashley is extremely thankful to every one of her mentors for the time they invested in her and all they still continue to do to help her today.
Some of her accomplishments include:
-2016 AQHA Sr. Working Cowhorse World Championship Top 10
-2016 AQHA Sr. Working Cowhorse L2 Reserve World Champion
-2016 NRCHA National Two Rein Champion
-2016 NRCHA Open Two Rein Regional Champion
-2016 NRCHA Derby Open Two Rein Champion
-2016 SRCHA Rode to Reno Derby Lmt Open Champion, Int. Open Res. Champion, Top 5 Open
-2015 NRCHA Lmt Open Hackamore Res. World Champion
-2015 NRCHA Snaffle Bit Futurity Lmt Open & L1 Top 5
-2015 SRCHA Rode to Reno Futurity L1 Champion, Lmt Open Res. Champion
-2015 SRCHA Rode to Reno Derby Lmt Open & L1 Res. Champion
-2014 SRCHA May Shindig Derby Lmt & L1 Open Res. Champion
-2011 NRCHA Lmt Open Hackamore Res. World Champion